Business Management for Tanning Salons
Insight is the appointment scheduling and business management software for your tanning salon, regardless if you are a small business with one tanning bed or a large franchise with numerous locations.
Easy to Use and Simple to get Started
With a user-friendly interface and all the features you need including automated marketing, service management and T-Max Timer integration, Insight is on the wish list for all tanning studios. If you are coming from another software, ask about our data conversion services.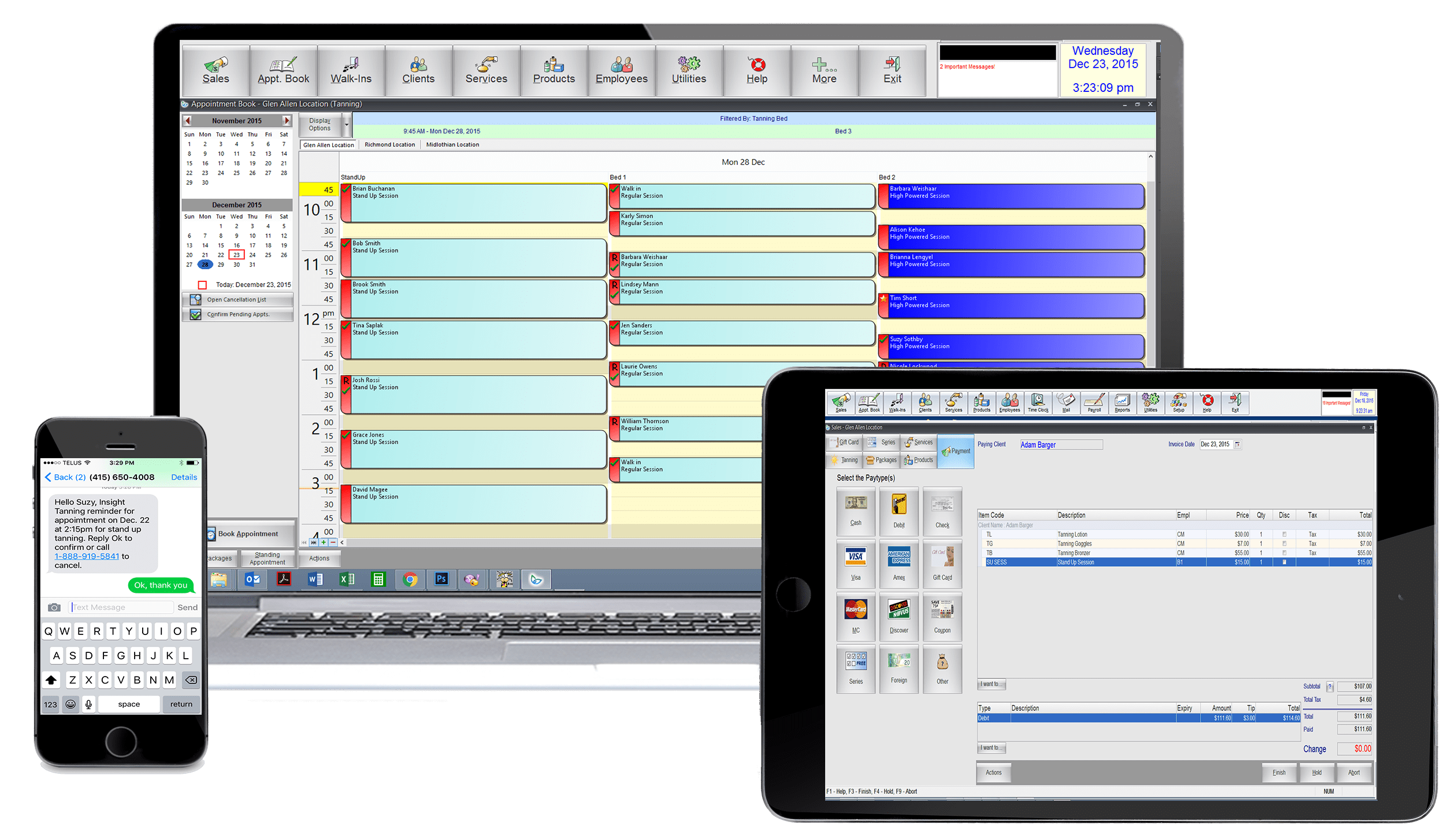 Insight for Tanning Salons and Spas

Appointment Calendar
Quickly schedule tanning sessions. Conveniently allow clients to book appointments online with any smartphone, tablet, or computer.  

T-Max Timer
Manage your tanning beds or booths with T-Max Timer through Insight. Set maximum tan durations, lead in times, clean up times, and cool down times.

Customer Management
Get insights on your clients! Track details and run reports on data including purchase and service histories, birthdays, referrals, loyalty points, and more.  


Status Notifications
Always know the status of your tanning equipment. Receive alerts when tanning beds need to be cleaned or if they require new bulbs. 


Marketing & Confirmations
Fill your appointment book with Insight's automated marketing system. Confirm tanning sessions and send special offers via email or SMS text messages.
Point of Sale
Keep tabs on the performance of your business! Analyze data including services performed, retail sales, employee performance, and more. Integrate with QuickBooks for even more detailed reports.
See all features
Simplify the day, for you and your staff!
Let's get started!
Experienced Customer Support
If you require training or assistance, give us a call and talk to one of our live customer support professionals who are committed to helping you in whatever way we can. Get help when you need it!
Don't Delay!
Every day without Insight Software is a missed opportunity to save time and increase profits. Set up Insight in minutes and experience the difference right away. Contact us today to get started!
Request a Quote